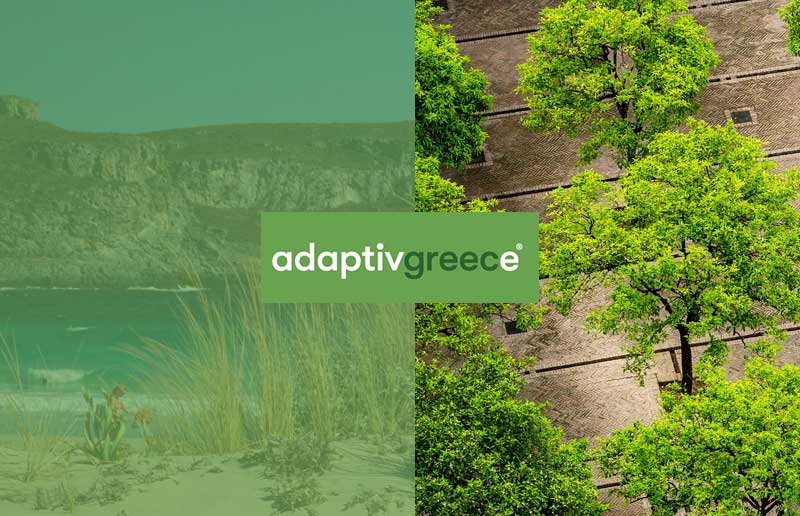 The project "Boosting the implementation of adaptation policy across Greece" – LIFE-IP ADAPTInGR is co-funded by the European Union's LIFE program.
LIFE-IP ADAPTInGR is a LIFE Integrated Project approved for Greece with a total of 19 partners, aiming to support the implementation of the National Climate Change Adaptation Strategy and Regional Adaptation Plans(RAP), with appropriate actions at national, regional and local level.
It includes actions to support and build appropriate infrastructures for the Ministry of Environment and Energy, which is the central body for the formulation and implementation of national climate change adaptation policy, capacity building actions to support the Regions in implementing and monitoring the RAPs, support actions for formulation of adaptation plans by the Municipalities of the country in the context of the Covenant of Mayors, as well as pilot projects in selected Regions and Municipalities as examples and templates for application in other areas of the country.
Specifically, it aims to:
develop the human resources skills of the authorities required to implement adaptation actions and policies,
establish an effective mechanism for monitoring, evaluating and updating adaptation actions and policies,
implement pilot actions in priority areas for adaptation and diffusion to climate change,
inform citizens and raise public awareness,
mobilize additional European and national resources and financial instruments to implement climate change adaptation policies,
disseminate good practice in Greece, the Eastern Mediterranean and the European Union,
assess and revise the National Strategy and Regional Plans for Adaptation to Climate Change, preparing the 2nd cycle of adaptation policies.
The project has a duration of 8 years (January 2019 – December 2026) with a budget of € 14.19 million (58.73% EU funding). The budget for NCESD is € 785,426 (€ 471,255 EU funding).
Beneficiaries & Co-Financers:
Ministry of Environment and Energy (MEEN) (Leading Partner)
National Technical University of Athens (NTUA)
Green Fund (GRFU)
Union of Greek Regions (UGR)
The Central Union of Municipalities of Greece (KEDE)
National Center for Environment and Sustainable Development (NCESD)
Region of Sterea Ellada (RSE)
Region of Western Greece (RWG)
Region of Ionian Islands (RII)
Municipality of Katerini
Municipal Water Supply and Sewerage Company of Komotini (DEAYK)
Municipality of Larissa
Municipality of Agii Anargiri-Kamatero (AAK)
Municipality of Rhodes
Academy of Athens (AA)
Bank of Greece
ELLINIKI ETAIRIA Society for the Environment and Cultural Heritage (ELLET)
National Observatory of Athens (NOA)
Mariolopoulos-Kanaginis Foundation (MFK)
NCESD participates in the program with actions related to disseminating information to both all stakeholders and the public, as well as promoting the program and assessing the environmental impact of the project. In particular, NCESD has undertaken actions C7, E1.9, D4 and F2 as a coordinating partner. For more information visit the project's website: www.adaptivegreece.gr